Quotations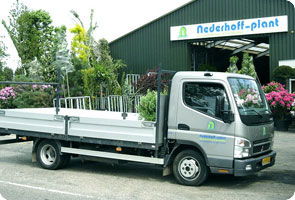 We are open to receive any enquiry you might have. If it's only a few key pieces your after we will happily quote for those. If you have complete planting list by all means send it through and we will quote for the complete job. After you have sent us your specific enquiry or complete planting list we'll come back to you with our offer including cost for delivery direct to site.
Ordering
Just give us a call or pop us an email and we'll make sure to get back to you before you know it. Ordering is easy and fast. At Nederhoff we have a hands on mentality and wish to serve as fast as possible. Especially in season we are quick to supply and have transport scheduled several times a week. If you need a particular plant or tree from Italy fast!...We've got weekly loads coming in and yours can easily come tag along.
At Nederhoff we do what we say and don't make promises we can't keep.
If you order through Nederhoff you can depend on us to do a good job!
Delivery
Nederhoff Plant has two lorries of their own being a 8 meter truck and 10 meter truck. In this way we can deliver full truck loads to all locations in UK and Europe. It's however important to state that we have two trusted transport partners for partial loads. Our customers can order as little as one pallet or trolley per delivery. Our delivery times depend on moment of ordering albeit that if on stock we can supply as fast 48 hours for South of UK and 72 hours all the way up to Scotland.