Nederhoff Plant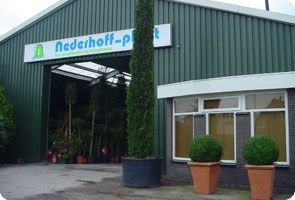 Nederhoff Plant is a unique trade company based in Boskoop The Netherlands.
The family owned business of experienced nursery men has been in the family for four generations which has resulted in a quality-driven all round supplier of trees and plants. We carefully maintain an extensive stock of containerised trees and plants starting at 10L size and up until as big as they get. Our vast network of growers throughout Europe always supply us with top quality stock which allows us to complete any order to the highest of standards.
Off course you realise that the issue isn't only to order the best plants and trees in, the issue is really getting the best deal and service all together. Meaning that you waste as little time possible calling and emailing all your suppliers and having more time to do what you're good at. This is one of great things about Nederhoff Plant, we will supply complete projects, size for size and bottom to top as a one stop shop ensuring you the best deal, saving you time and delivering top quality plants.